The doors used on Airstreams until 1965 are more like "hatches" than entry doors. They had a low height, and the mechanisms used to secure the door and open and close it are unlike conventional doorknobs. The seals on these doors are usually always melted away from age, and the screen is often damaged, but the biggest problem is the corrosion that occurs. The "door within a door" screen vent door is a nice feature on these older Airstreams. What started below as a simple task to replace the door seals resulted in a 2 day job as hidden problems were found and addressed.
Before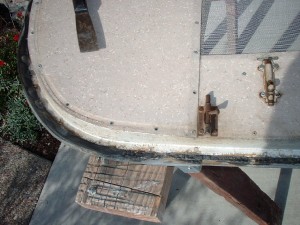 The door seal is all its decomposed glory. The door within a door seal was just as bad. The hardware is cabinet latches from the 1950's, and will be sandblasted and re-Zolatoned with the rest of the door interior skins later.
After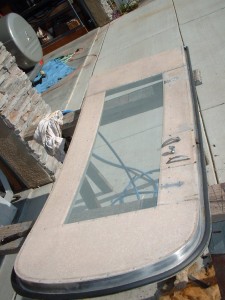 The reassembled and ready to install door. The vent door and this door are installed on the stainless steel hinges in the door opening with 2 simple hinge pins. They are easy to remove – a tip should you ever lock yourself out of the trailer.
---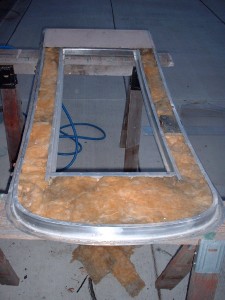 Rusty fasteners and missing pop rivets made the decision easier to remove the interior skin and repair and clean up the corrosion in the door. New insulation was installed, the lock mechanism lubed, and the 1/2 inch of dirt removed from the bottom the door insides.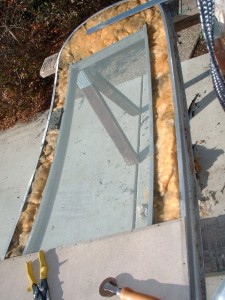 The screen was replaced with galvanized screen using the "pizza cutter' screen tool seen in the foreground. This makes the screen tight. Do not use aluminum screening – it will not work in this kind of application.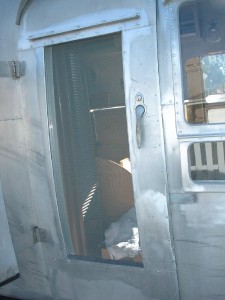 The finished door reinstalled along with the vent door. The seal was replaced on it too, and required the door shape to be tweaked a little to get a nice fit. All the corroded fasteners were replaced with stainless steel ones as required. The exterior and interior handle shown, along with the escutcheon plate, are available from Vintage Trailer Supply.
---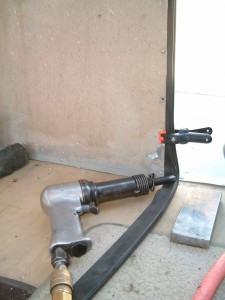 The door new seal is installed between the interior skin and the outer skin, and then riveted in place using conventional bucked rivets.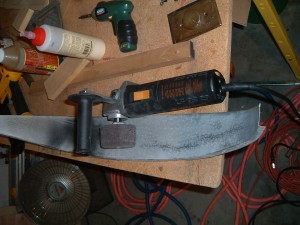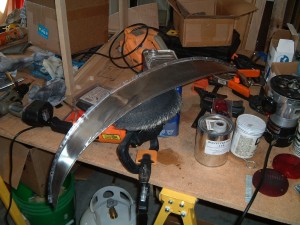 The oxidized shroud above the door gets sanded and polished and restraightened.
---
The riveted-on door opening (cut-out) seal is available from
Vintage Trailer Supply
.