Airstream Cross Country Transport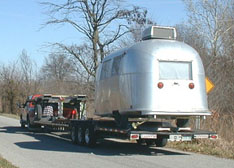 ---
Once you find your Airstream clear across the country, how do you get it home? If you have the time, the most inexpensive method will always be to tow it yourself, even when you factor in fuel, motels and tow vehicle prep. But what if you don't have the time available – or maybe even a tow vehicle? Maybe it's been sitting so long it is not roadworthy? Here are some options you can consider.
Towing is by far the least expensive of the options. This is how the RV dealers get their trailers delivered or moved from dealer to dealer. You can ask the local dealer that will be maintaining your trailer, or dealers in the vicinity of where you bought your trailer for references. A tow'er is only making money when he is towing something, so they are always looking for a return load to avoid deadheading the opposite direction. Make sure they are licensed to commercially tow, are bonded to avoid problems with damage or neglect, and are insured for liability and theft.
Such tow'ers that specialize in Airstream's are:
Sal and Gloria Ciroula, while not Airstream specialists, are full time towers. Contact them out at shirrell@mynewroads.com.
In the New England area and Upper East Coast, Wayne Moore (wam52@prodigy.net) will tow Airstreams or haul smaller trailers on a flatbed trailer.
…and don't forger to check with local RV dealers who they recommend.
Expect to pay anywhere from $1.25 to $2.00 per mile – more if fuel prices continue to rise.
*********************
The second option is renting a truck and towing it yourself. If you don't have a tow vehicle and want to tow it yourself, an option that is becoming available is renting a truck from Enterprise Rent-a-Truck. Not all Enterprise locations have this service, so check around. You need to return the truck to the renting location – no one way rentals.
Contract laws and equipment incompatibility prevent the use of moving vans and trucks from U-Haul, Hertz & Budget to tow a personal trailer. You can locally rent a pickup from U-Haul, but the daily and mileage fees will far exceed $1.00 per mile, so it really only remains a local use option.
*********************
The third option is to have an auto transport company move the trailer on a flatbed truck or trailer. As you can deduce, they are really only practical for Globetrotters and smaller. This is how we had our Caravel shipped out from Indianapolis to California. Cost was about the same as towing. We used Admiralty Transport (no longer in business), but there are literally hundreds of such companies out there, and can be found in the Yellow Pages (Auto Transport), using web search engines, and at http://www.hemmings.com, search using "transport" as the keyword.
Vintage Transport – uses a custom built 39′ lowboy to haul even long vintage trailers.
Awesome Auto & Transport, based in Nevada. Contact: Mark Woody (702) 400-1686 or (702) 236-2331
WJS Airstream Travel Transporters. Serving the Southeastern United States.
Based in North Carolina. Contact by email or call Bill Spaan (336) 446-1170.
Yesterday's Tractor Hauling. Bulletin Board for equipment haulers throughout the US that are looking for loads to haul back.
Scott Adkins 830-456-6261. Located in Texas, can prep and tow up to 50′, and haul up to 30′ trailer on flatbed.
Raul Rodrigues (recommended by many vintage trailer collectors) 502-500-6410.
Showroom Transport (TrailerShippers.com)
UShip. Go to their website and fill out the forms. Uship posts your request and then transporters bid for the work and contact you. This usually results in a good deal, as they can bid jobs so as to not travel empty.
*********************
If you have good sized truck, a similar option is to tow it yourself by renting a car trailer, or finding a buddy who has one…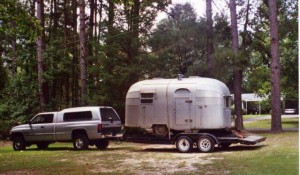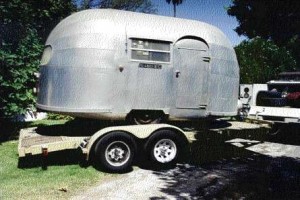 *********************
Lastly, if the trailer is towable a short distance, you have the option of checking with Trucking Companies in the area where the trailer is being purchased. It will require towing the trailer to a ramp, usually at the trucking yard, and you will need to have a local ramp to offload the trailer at your end. They can carry the Airstream on one of a set of doubles or on a semi. This method allows longer Airstreams to be hauled, but also requires a tow-vehicle to be available at both ends. It only usually only becomes economically feasible if it prevents the trucker from having to deadhead either way on a delivery.