Interior Cabinets – Dinette
There are some dinettes in RV's that are enjoyable to sit in, and others where you just can't get comfortable. A lot of it has to do with the dimensions. Ideally they should be:
Height to cushion top = 18″
Height to table top = 30″
Table width = 32″
Table length = 40″
Overlap of table edge to cushion front = 4″
Seat depth = 18″
Angle of back = 5 deg
Height of back = 18″
Angle of seat front (heel space) = 95 deg
Extension of cushion over edge of seat = 1″
Don't forget to account for the cushion height and compression when calculating dimensions.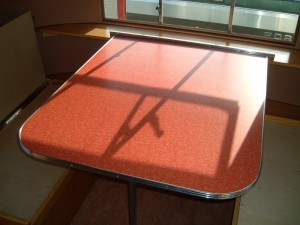 ---
Old Dinette

A reminder of what the old layout was: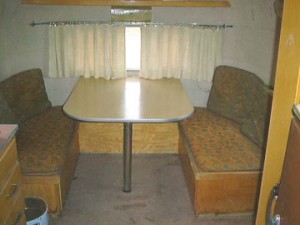 The crude non-original dinette. The table was sway-backed, the bench too deep, and the cushions didn't support your back. From the holes found behind it, it appears that there was an older dinette that was removed and replaced by this thing.
---
Installation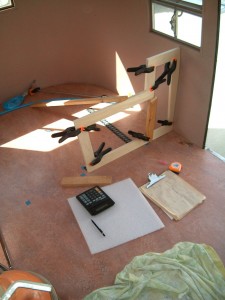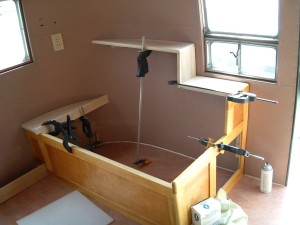 As usual, you spend more time planning and mocking up than actual woodworking.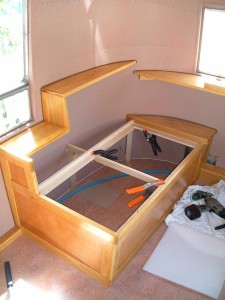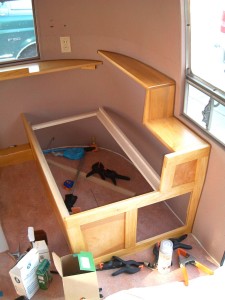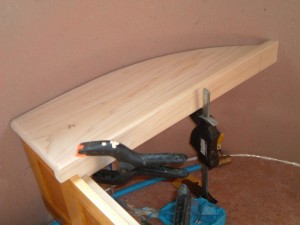 Images of the construction. It is important to get the plumbing and water tanks installed and tested before dong the final assembly of all the supports.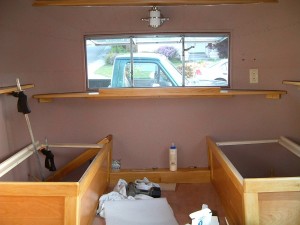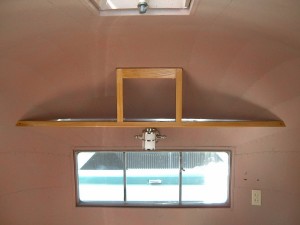 To attached the table securely, a shelf was placed under the window with a 1×2 riser to get the table to the proper 30″ height. Above the window is a reproduction of the original sway-backed shelf, but with a center cabinet to better support it to the ceiling.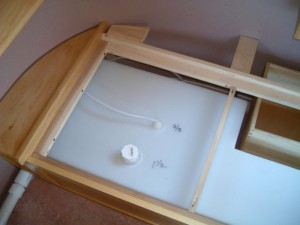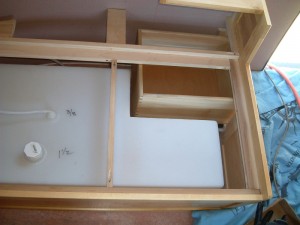 With the tanks in place and the plumbing checked, I could continue with the seat bottom supports. Under the RH dinette I placed a storage drawer in the area of the tank cut-out.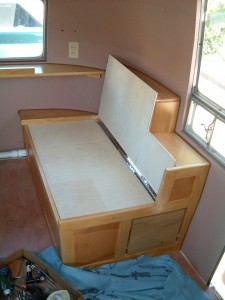 The completed framework with the area closed out behind the seat back, with a hinged access door to the tank drain valve. (Right) the 1/2″ birch base with full length piano hinge. The back folds down to make the bed base.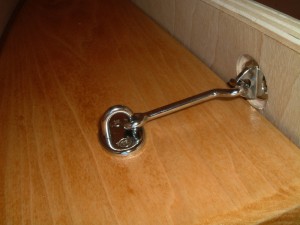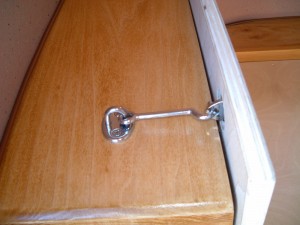 A chrome cabinet latch keeps the back secure during use and travel. Even with the 5 deg angle, I have found that if the backs aren't secured, they tend to always be moving on you when you get in and out or rest your arm behind you on top of the cushion.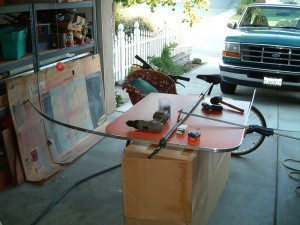 The Formica Coral Boomerang is installed, and then banded with 3/4″ polished aluminum edging from Hoskin & Muir.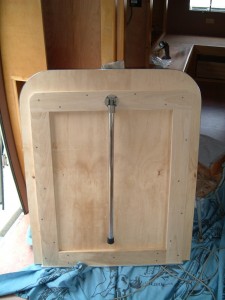 A big problem with some dinette tops is they are just a sheet of 3/4″ plywood. That will sway with time, and also is unstable. Here I used 1×4's pocket-screwed together to form a frame support. The leg is from an old folding camp table.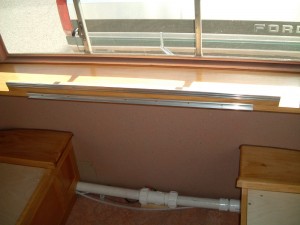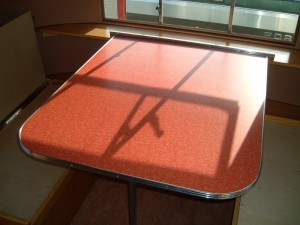 To attach the table and allow easy removal to drop the table down to make the bed, a two sided support bracket designed for just this purpose was used to attach ("hinge") the table at the front.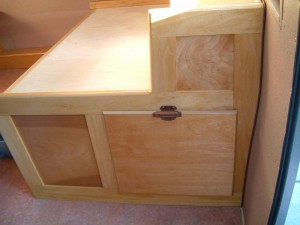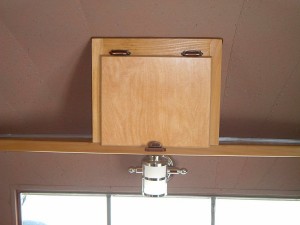 The underseat drawer gets a 3/8″ birch face and vintage squeeze latch, as does the overhead locker.
---
The cushions come later…