Interior Cabinets – Streetside Galley
Since the bath was enlarged fore and aft, the galley had to accomplish its purpose in a smaller footprint. There was also the requirement to include a water heater and more countertop space. The water heater was addressed by installing a Bosch on-demand system in the back of the deep pantry, it is usually wasted space anyway. The pantry width was narrowed for the bath extension and more storage provided under the sink and under the dinette seats. Additional countertop space was obtained by using the space behind the stove and adding a fold down countertop extension.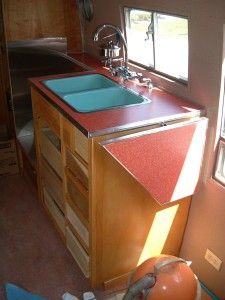 ---
Old Cabinets
A reminder of what the old galley layout was: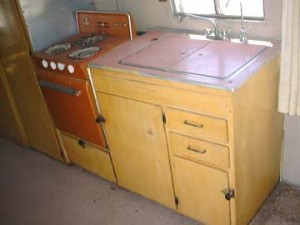 ---
Fabrication & Installation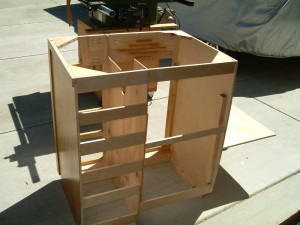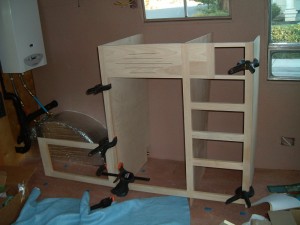 Everything is test fit as I go to get the clearances and curvatures right. Blankets are a must on all the floors at all times to keep tools and impacts from damaging the linoleum. The Bosch on-demand water heater is mounted in the back of the pantry closet on the forward face of the bath wall. The Reflectix insulation covers the wheel-wells.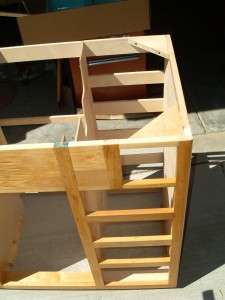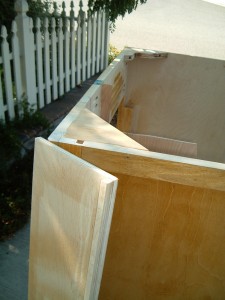 Gussets are used in the corners for strength and to secure to the countertop to the base.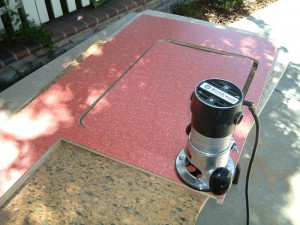 The Formica brand Coral Boomerang laminate was secured with contact adhesive and then routed flush with a router and trimming bit.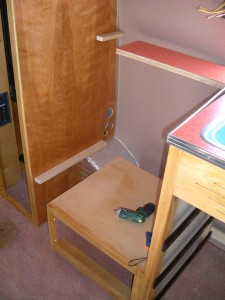 The next image shows the sink base matching up to the utility cabinet. The holes allow for drain, water and gas lines.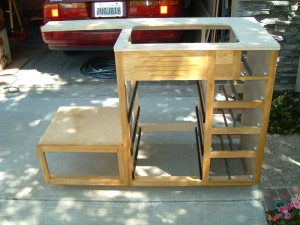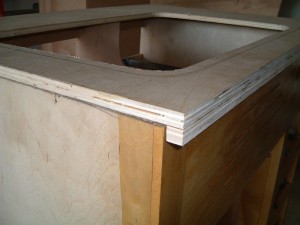 The countertop is 1/2 inch cabinet plywood with a 1/2in x 1/2in lip secured to back up the Hoskin & Muir 1″ aluminum edge banding.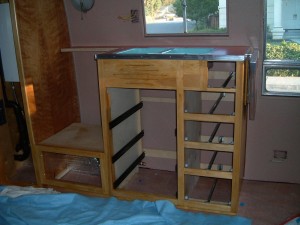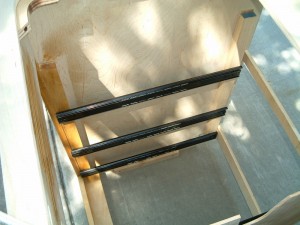 Secured in place, you can see how the streetside wheelwell is hid under the back of the stove area, allowing storage in front. The fold up countertop extension clears the window opening and curtain when stowed. The other image shows the full extension drawer slides for the under sink storage mounted to spacers front and back.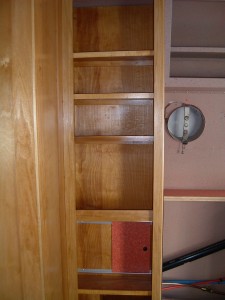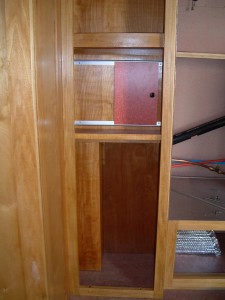 The water heater closet was closed out with a series of access panels with removable pantry shelving, space for a waste can, and an access door to the water heater pilot and controls.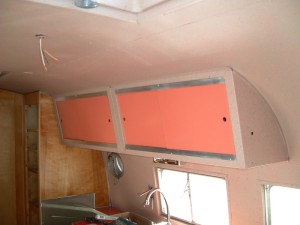 The re-zolatoned overhead cabinets were reinstalled, and the original coral finish Masonite doors cleaned up and reinstalled in the polished aluminum bypass track.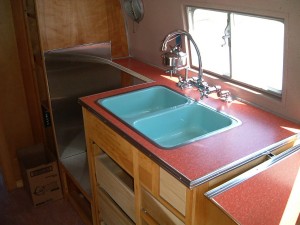 0.30 stainless steel sheet trimmed with J-angle was installed to line the area where the stove will sit, much like the original was with aluminum (which corroded badly).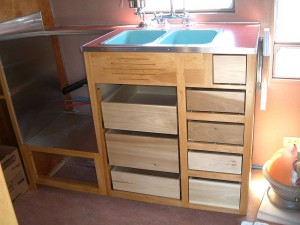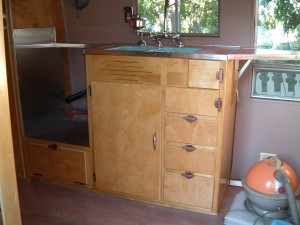 Before and after the door and drawer faces are installed. Also shows the countertop extension both up and down.
---
The stove comes soon…