1959 Pacer 18′
Ohio | SS 9 001 to SS 9 328
The Pacer was a low cost economy model 18 footer made only in Ohio, who was also making at the same time 18 foot GlobeTrotters, Caravels & Customs.
The Pacer, even though made after the Clear View windows were introduced, never had them, possibly due to it being a low cost model.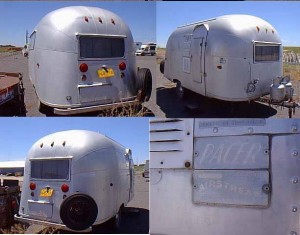 This one shows that you could get a layout with no curbside window. The spare tire carrier was added, and is offset as to not block the rear compartment storage door. Bet you had to be careful not to hook things with it.